Cloud Upgrade
Zadara continuously works on updates to the Zadara Compute platform. These bring performance enhancements, security updates, and new features. We strongly recommend that Cloud Upgrades are completed as soon as possible.
When upgrading a Zadara Compute cloud, the underlying cloud infrastructure will be upgraded first. For standard upgrades this is a non-impacting operation and guest resources—VPCs, VMs, etc—will not be affected.
The Zadara team will provide specific guidance on any Cloud Upgrades which will result in service impacts.
Service Upgrades
After the Cloud Upgrade, users may be prompted to upgrade some of their services.
A persistent notification will be present at the top-right of the web UI which will list all resources which should be upgraded: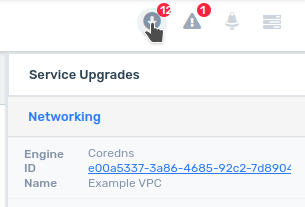 A notification will also be shown on the detailed view of each resource which needs to be upgraded:

These upgrades may come with a brief loss of availability of the relevant service. We strongly recommend that Service Upgrades are completed at the earliest convenient time.
The Cloud Admins and/or end-user can trigger the upgrade of these services by clicking the Upgrade button for the given resource: