NOTE: This article refers to Veeam Backup & Replication v12, in case your server is running v11, please refer to the v11 article.
Veeam Data Platform's emphasis on Data Security, Data Recovery and Data Freedom
enables organizational resiliency and keeps businesses running. Veeam's Subscription or
Service Provider licensing, combined with Zadara's 100% OpEx services enables
organizations to adapt to their changing needs; be that on premises, with a service provider
or via a cloud provider without financial or technical lock-in. This is the powerful combination
of Zadara for primary, secondary and cloud tier storage with the leader in data protection in
Veeam.
This is an exciting partnership for Veeam, Zadara, and our joint partners as it brings a
number of new alignments.
Utilize Veeam Data Platform v12's Direct-to-Object Support to transfer backups direct
to Zadara Object Storage
New Veeam Data Platform v12 multiple Object Storage extents combined with
Zadara Object Storage enables greater flexibility over configurations such as
enabling dedicated Object Storage separated and isolated for certain workloads or
customers.
v12 Multiple SOBR (Scale Out Backup Repositories) with Zadara immutable Object-
Lock support provides more choice while maintaining key protection from
Ransomware impacts.
Backup of NAS file systems such as Zadara's Virtual Private Storage Array (VPSA) NAS services to Zadara Object Storage with immutability support for these still critical data repositories.
Backup Agents support for OS protection such as remotely deploying this to Zadara zCompute EC2 instances and providing backup directly to Object Storage
Utilize Veeam DataLabs with Zadara VPSA Block and NAS VPSA's to present a storage on demand option for testing and recovering environments or for restoring and running AV scans to check for Ransomware threats.
PostgreSQL Database support in Veeam v12 can be provisioned on a Zadara zCompute instance along with other components especially where a VCSP would like to offer a customer isolated "Cloud Connect in a box" solution.
Zadara is Veeam's Technology Alliance Program Pro-Partner. We work closely together, to ensure seamless performance and compatibility between Veeam software and Zadara storage.

Combine Veeam and Zadara to drive application and data availability in a flexible, 100%-OpEx backup-as-a-service model — including data immutability — on premises, at your data center, and in the public cloud.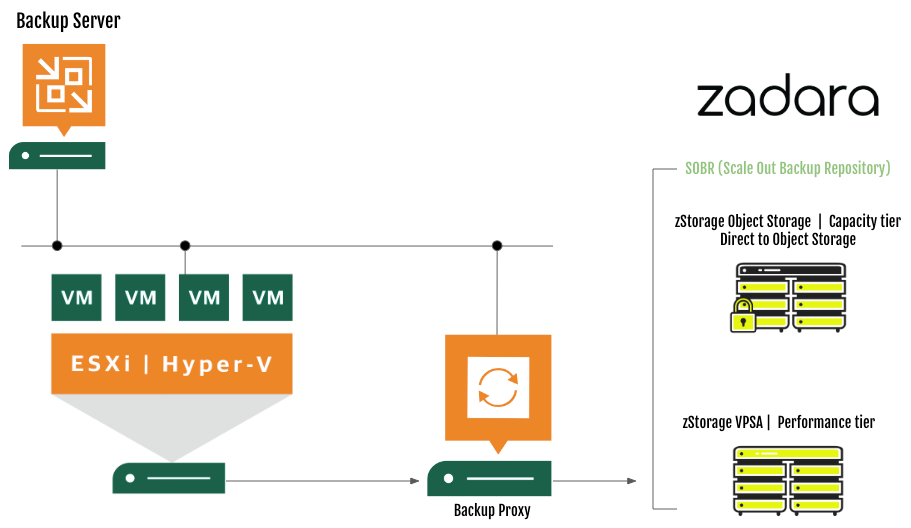 The objective of this article is to cover the steps required for creating a Veeam Backup Job that will use Direct-to-Object option that was introduced in Veeam's Backup&Replication v12.
The steps outlined below requires Veeam Backup & Replication v12 and Zadara's Object Storage (Version 23.03 and later).
Overview
With the introduction of Veeam's v12 release, the option to use direct-to-object storage has been incorporated. This feature allows object storage as a primary backup repository. The object storage can be either an on-premises object storage or a cloud object storage.
By configuring the backup job according to your requirements, you have the flexibility to determine the frequency of the job, set the retention policy, and customize other settings provided by Veeam Backup & Replication.
Previously, prior to v12, utilizing Veeam's Scale-Out Backup Repository (SOBR) was necessary for saving data to cloud object storage.
The scale‐out backup repository is a logical grouping of storage extents which provides flexibility and scale-ability in defining a backup target. One or more backup repositories can be used as extents for the scale‐out backup repository, and different types of backup repositories can be used as well. The object repository, is used for S3‐compatible storage. This repository is unique in that it provides a capacity tier for the scale‐out backup repository which can be used to archive backup chains to more economic storage.
Object Storage Repository
NOTE: in order to leverage the immutability capabilities, ensure you have created the Object Storage target container with the Object-Lock feature enabled (Object-Lock can be enabled during container creation), in order enable it, follow the instructions provided in Zadara VPSA Object Storage user guide
Connectivity information
For Object Storage connectivity, it is required to gather the following information from the VPSA Object Storage management UI:
VPSA Object Storage Endpoint, refer to the API endpoint that matches your networking topology (i.e. Veeam B&R server will access the object storage via Private/Public network)
VPSA Object Storage region. (default us-east-1)
S3 API Access Key
S3 API Secret Key
From the VPSA Object Storage GUI, navigate to the User Information section (top right corner, by clicking the logged in username).



Creating the Object Storage repository
Open the Veeam Backup & Replication console and navigate to the "Backup Infrastructure" view.
Right click the "Backup repositories" and choose "Add backup repository"
Select "Object Storage"
Choose S3 compatible storage


In the New Backup Repository wizard, name the Object Repository - mind the "Limit concurrent tasks" option. it is recommended to have a fixed limit for the maximum concurrent tasks. unchecking the option may lead to "unlimited" connections which could be counter-productive when large number of backup chains are being offloaded.

From the object storage perspective (Capacity tier), each task handles 64 TCP connections (overall of 256 for 4 tasks).

This limit can be fine-tuned at any time, it is recommended to start with 4 tasks and add additional concurrent tasks if needed. Four (4) concurrent tasks is aligned with a 36 (EC) and 24 (2W protection) drives object storage configuration, if you are not sure about the size of the object storage cluster please contact your service provider / Zadara support.


Set the connectivity information, as collected earlier from the VPSA Object Storage management interface(service endpoint, Region, Credentials).
In case a specific gateway is selected, it is recommended to ensure proper connectivity from the proxy server to the object storage. The VPSA Object Storage is configured with a known CA signed TLS certificate, issues related to certificate validation in this step may indicate connectivity issues between the proxy and the Object Storage.


In the bucket section, select the bucket you have created earlier, along with the backup folder (a folder can be created directly from the wizard context); Check the "Make recent backups immutable for: X days" if you wish to protect recent backups from modification or deletion by ransomware, malicious activity.
Review the configuration, and finish the Object Storage backup repository.


Backup job creation
Create a backup job that will be utilizing the Object Storage backup repository we have created.
Open the Veeam Backup & Replication console and navigate to the "Home" view.
Right click the "Jobs" option, and choose "Backup - > Virtual Machine.."
Select the VM(s) you'd like to backup.
Under the storage section, Backup repository - select the Object Storage that was recently created.
Under the Storage > Advanced button, the backup administrator can fine tune the storage configuration for the job. Veeam Backup & Replication allows their users to define the default block size for backup in the context of the storage configuration of a backup job.
It is strongly recommended to use the "4MB" block size which will significantly improve the object storage performance during backup offload. For more information please refer to Veeam's storage optimization user guide & Veeam's great guide for Veeam Cloud Object Storage Deep Dive – Part Three, Benchmarks




Confirm the rest of the steps, review the job configuration, and Finish its creation.
That's it, the backup job is in place and your data is being backed up!
Please be aware that your backup software application is responsible for managing the data movement process for both backup/restore. Since various factors can impact your specific setup, it is highly advisable to consult your backup software's technical support team if you face any challenges or have questions related to your application.
Got a question? Want to learn more about how to leverage your backup solution? We love to help. Send us a mail to support@zadarastorage.com.