Follow VMware technical white paper "Multipathing Configuration for Software iSCSI Using Port Binding". The technical white paper can be found here:
http://www.vmware.com/files/pdf/techpaper/vmware-multipathing-configuration-software-iSCSI-port-binding.pdf
Several important clarifications to be considered in order to connect the Zadara VPSA volume to ESXi server:
1. In step 4 under section "b) Enabling the iSCSI Software Adapter", you have to login with VPSA iSCSI target address and CHAP username and secret.
The VPSA address and CHAP information be found in the VPSA GUI under "Controllers" page:
2. Enter the VPSA iSCSI target address in Static Discovery tab.
3. Click "CHAP" button and insert VPSA CHAP username and secret: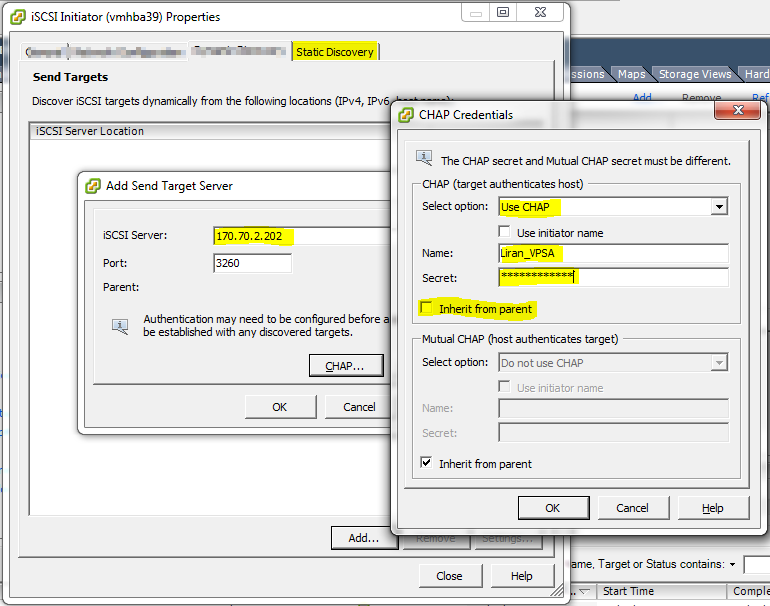 4. Click OK and close the iSCSI Initiator Properties dialog.
5. You will be asked to rescan the host adapter. Click Yes.
6. Go to VPSA GUI and make sure the ESXi server was added to the Servers list:
7. Attach the ESXi server to the Zadara Volume:
8. In the VSphere Client, click the Configuration tab and select Storage Adapters
9. Select iSCSI Software Adapter and right-click the Rescan button. Verify that Zadara iSCSI volume is detected and displayed with the available paths: