Applicable ESXi versions: All 
When using VMware ESXi systems with Zadara VPSAs, we recommend that the timeout values indicated below are set accordingly.
These values are changed in the iSCSI Software Adapter - Advanced Options page under Storage Adapters.
Note that after modification you must reboot the ESXi host to enforce these settings.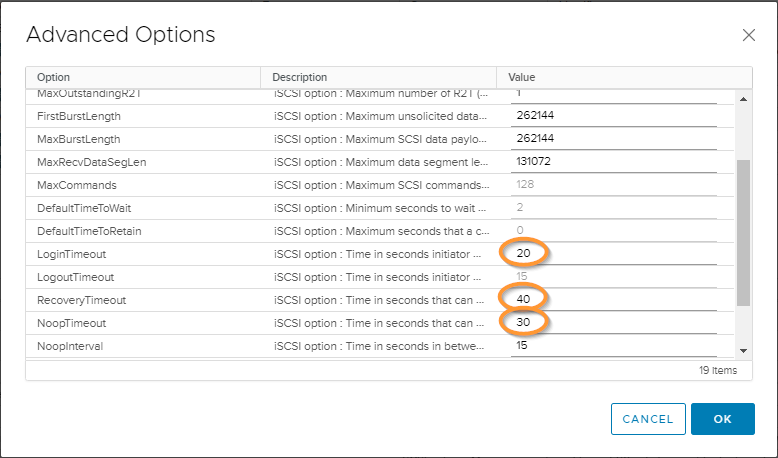 The recommended values are:
LoginTimeout: 20 seconds
NoopTimeout:

For versions prior to VMware ESXi 6.5.0, 5969303 - 120 seconds
For VMware ESXi 6.5.0, 5969303 onwards - 30 seconds

RecoveryTimeout: 40 seconds
Setup for Windows Server Failover Clustering and Microsoft Cluster Service:
If you are using Failover Clustering or Microsoft Cluster Services the recommended value for "Disk I/O timeout" is 120 seconds.
This is configured in the Windows registry here: HKEY_LOCAL_MACHINE\System\CurrentControlSet\Services\Disk\TimeOutValue
Other information regarding VMware ESXi / vSphere configuration settings when using WSFC or MSCS can be found here.